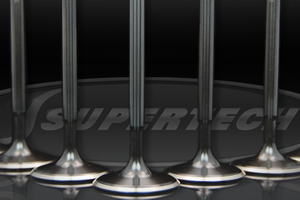 High Performance Valve Set
Supertech valve designs offer industry leading engineering, technology, and manufacturing. The result is superior flow rates, durability, stem finish, and dmensional tolerances. All valves are EV8 stainless steel with a hard nitride layer (black) for wear resistance, a superfinished stem to reduce friction, a hardened tip and valve seat surface for increased durability of these high stress areas, swirl polishing and undercut stems for improved flow rate and mixture quality. Exhaust valves for turbo applications are also available in an Inconel 751 high nickel alloy for improved durability at extreme temperatures. Inconel valves are without the nitride hardening and therefore are silver in color.
Usually ships in 2 to 3 days.
Manufacturer: Supertech
Applications:
Subaru EJ205/EJ207
Subaru EJ255/EJ257