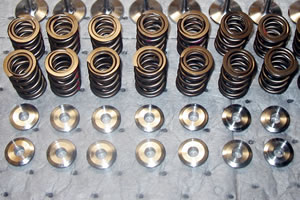 Dual Valve Spring & Titanium Retainer Kit
Supertech valve spring kits are engineered for accurate high rpm valve actuation with more aggressive cam profiles. Dual springs reduce stresses and valvetrain harmonics that can adversely affect durability. Springs are manufactured from superclean chrome silicon vandaium steel and are gas nitrided prior to shot peening to improve fatigue life. Each kit includes a full set of springs, hardened spring seats, and lightweight titanium retainers.
Usually ships in 2 to 3 days.
Manufacturer: Supertech
Applications:
Subaru EJ205/EJ207
Subaru EJ255/EJ257