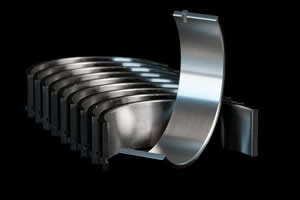 Tri-metal Performance Engine Bearings
King XP and XPG bearings have a tri-metal construction with substantially higher load capacity compared to bi-metal bearings (such as OEM type) and even competitor's tri-metal products. Increased crush height and elimination of flash coatings improves heat transfer and bearing rentention in the housing. King's Bulls Eye® wall tolerance accuracy is +/- 0.0001", more than twice as accurate as most competitor products. Subaru XPG main bearings have been engineered to address oil starvation issues by changing to a full groove main and eliminating the lug recess. Outperforms all other bearings on the market today.
Usually ships in 2 to 3 days.
Manufacturer: King Engine Bearings
Applications:
Subaru EJ Series Engines
For more detailed technical and application data download this file:

King Bearings Brochure
| Part No. | Description | Size | Price Ea. | Add to Cart |
| --- | --- | --- | --- | --- |
| CR4125XPG | King XPG Rod Bearing Set 4cyl EJ Series 52mm Journal | Std | $49.00 | |
| CR4125XPG-X | King XPG Rod Bearing Set 4cyl EJ Series 52mm Journal | +0.001" Clearance | $49.00 | |
| CR4280XP | King XP Rod Bearing Set 4cyl EJ Series 48mm Journal | STD | $49.00 | |
| CR4280XP-X | King XP Rod Bearing Set 4cyl EJ Series 48mm Journal | +0.001" Clearance | $49.00 | |
| MB5382XPG | King XPG Main Bearing Set 4cyl EJ Series #5 Thrust | Std | $86.00 | |
| MB5382XPG-X | King XPG Main Bearing Set 4cyl EJ Series #5 Thrust | +0.001" Clearance | $86.00 | |
| MB5220XP | King XP Main Bearing Set 4cyl EJ Series #3 Thrust (Phase 1) | Std | $86.00 | |
| MB5220XP-X | King XP Main Bearing Set 4cyl EJ Series #3 Thrust (Phase 1) | +0.001" Clearance | $86.00 | |